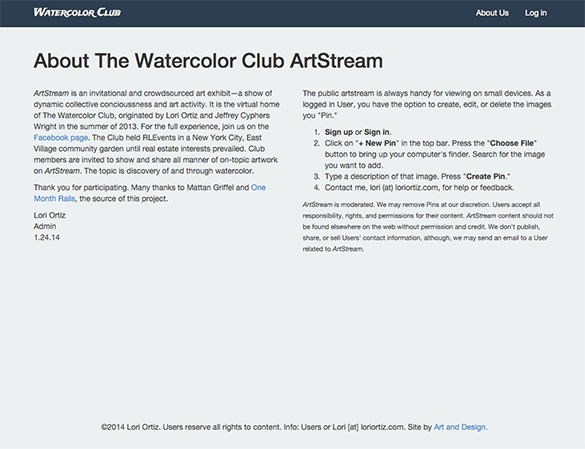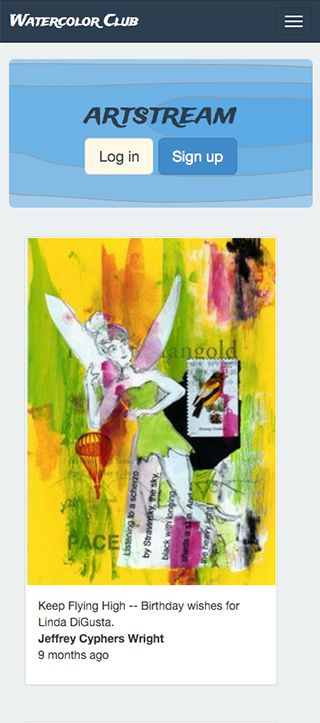 Project Description
The Watercolor Club dba thewatercolorclub.com was online for nearly two years to showcase the work of members and any watercolorists. The club started as a one time workshop for a NYC community garden and became a monthly-meeting. The purpose was to have art and beauty heal the infighting there and to encourage appreciation of the garden's beauty and its life-enhancing possibilities. The participants didn't have much interest in uploading images of their paintings, though. After the garden board ousted the dissident artist-members, interest in the club waned, though the live community continues on Facebook. Noone posted on thewatercolorclub.com for ten months so I did not renew the domain. It can still be accessed here for now.
Technologies
Ruby on Rails, Bootstrap, responsive design, custom 'hero' graphic and Google display font, Login/signup/signin/upload new, password reset with Mandrill, AWS EC2 image storage, imagemagick, paperclip, pagination.
Role
Club founder, designed and wrote 'about', custom code, banner 'hero' svg, built and maintained the Rails site based on my earlier Pinterest clone project (onemonth tutorial).